Sign the Petition to President Obama to Free the Cuban Five
Individuals and political organizations opposing the half-century-old U.S. economic blockade against Cuba have joined in sponsoring a petition to President Obama to free the Cuban Five prisoners. This "Pardon for the Five" group is presently seeking signatories for a printed petition and for the on-line petition version.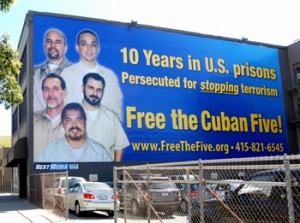 When arrested over 12 years ago, the five Cuban men were monitoring private paramilitary groups in Florida engaged in organizing anti-Cuban terrorist assaults. They provided their government with advanced notice of preparations for attacks. Their bias – marred trial ended in convictions on a variety of charges and in log, cruel sentences.
The petition to President Obama is timed to the approaching end of the prisoners' appeals process and to Amnesty International's action in October, 2010 in appealing to Attorney General Eric Holder to consider clemency for the Cuban Five. Concurrently Amnesty International issued a comprehensive report on the case, one emphasizing judicial and prosecutorial failings.
The group Pardon for the Five views the Amnesty International initiative as a positive step, because the appeal is based upon human rights and the rule of law and has potential for resonating with a broad segment of the population. The petition, therefore, incorporates language drawn from Amnesty International's appeal.
Sign on to the petition at the US Peace Council website.
Leave a Response